The only thing more painful than never being able to own a supercar is watching a masterpiece of engineering getting ripped to shreds before your very eyes. Unfortunately, it's something that happens way, WAY too often.
In some instance, it comes down to the ham-fisted drivers behind the wheel who simply bit off more than they could chew. In others, reckless driving paints a poignant picture of the consequences. And then of course there are those ultra-expensive wrecks that really couldn't have been avoided. In all instances, if you can look at the carnage without a little piece of you dying inside…well, lucky you!
So without further ado, here's a quick rundown of 19 of the Most Expensive Cars in the World…Annihilated:
#1 Bugatti EB110 – $500,000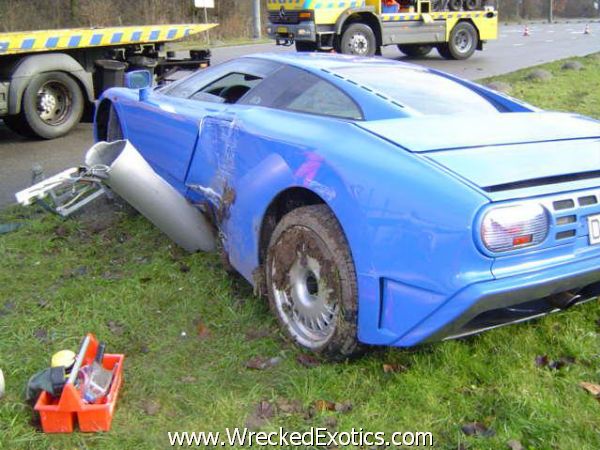 Kicking things off, the $500,000 price tag attached to this particular write-off is nothing more than a drop in the well, when compared with what's to come. Still, the sight of this gorgeous Bugatti in such a state is nothing short of heart-breaking. Apparently, the owner of the car was something of a feel-good guru by the name of Emile Ratelband. You reckon he was still smiling after this?

#2 Jaguar XJ220 – $1 Million
Quite a few of these little buggers have been crashed over the years – the fact that they're capable of doing around 220mph being no coincidence at all. They're always had a reputation for being in many ways about as technologically advanced as a missile with a seatbelt – a combination that's inevitably going to result in a $1 million wreck bill sooner or later! If you think this is bad, just wait and see what's coming next!

#3 2015 McLaren P1 – $1.1 Million
There are so many things that hurt so much about this one, it's hard to know where to start. First of all, the owner was just 27. (Who has $1.1 million to spend on a car at 27?) Secondly…well, just look at the damn thing! Thirdly, he'd only bought the car ONE DAY earlier. It was irreparable…gone…bye bye!

#4 McLaren F1 – $1.25 Million
The irony of Mr. Bean himself totally one of the world's most iconic supercars is borderline unbelievable. But it's true, with Rowan Atkinson having famously made a bit of a mess of his McLaren F1. He eventually went on to sell the accident-repaired F1, probably under the assumption that the best thing to do was to stay the hell away from it! Perhaps a lot like the next hapless driver in our list.

#5 Pagani Zonda C12 S – $650,000
Another relatively low-priced wreck in comparative terms, but given the fact that there were only ever 15 of these babies produced, what a waste! As there were no other vehicles involved in the late night crash, full blame was placed squarely at the door of the driver…which must have been hard to deal with!

#6 Mercedes Benz SL 300 – $4 Million
There have likewise been a couple of incidents involving the Mercedes Benz SL 300 over the years, though the one that flew off the road during a road race in Mexico had a particularly heavy price tag. Depending on condition, demand and whether it's ever been totaled, these gorgeous mechanical masterpieces can sell for more than $4 million.

#8 Too Many Ferrari Enzos – $1.5 Million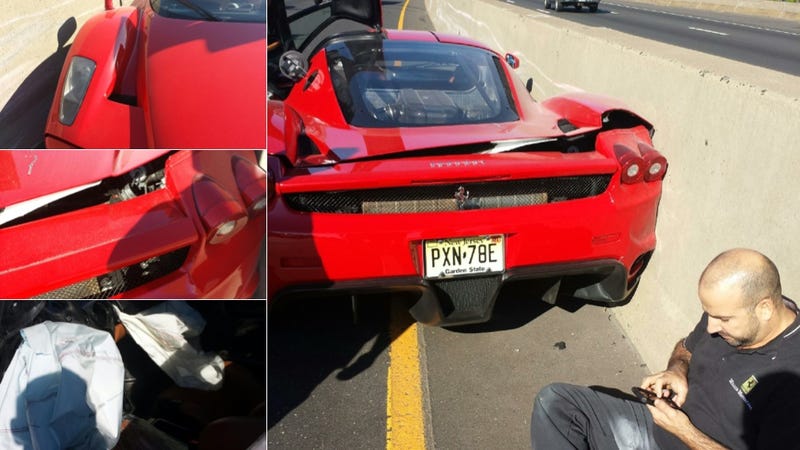 The most depressing thing about wrecked Ferrari Enzos is that there have been way, WAY too many of them. To date, more than a dozen of the things have been totalled all over the world, which is pretty unthinkable when considering they're around $1.5 million a piece. Statistically speaking, this means that if you drive an Enzo, you've a 3.5% chance of suffering the same fate, given the fact that only 400 were every manufactured. Still, not quite as expensive as the next entry.

#9 Bugatti Veyron – $1.6 Million
The word 'ouch' really doesn't cut it when trying to describe the horror of a Bugatti Veyron biting the dust. It's heart-breaking…in every way. Still, even with only 300 of them being manufactured, a solid handful have already met their makers. Well, not literally…they've headed the way of the scrap heap. Suffice to say, with how much even the tiniest of replacement parts cost, it's more often than not far too expensive to repair them.

#10 Bugatti Veyron (Again!) – $2 Million+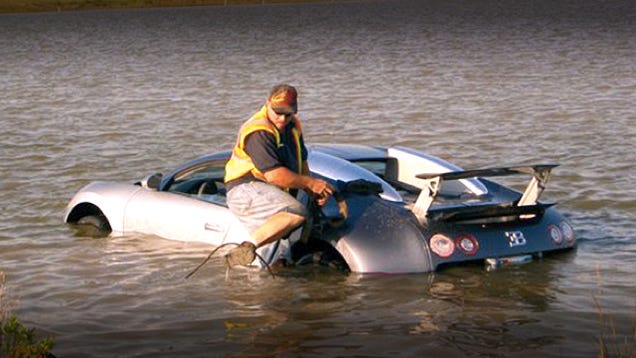 Well if you're going to total a Veyron, why not be original? This genius managed to drive his Bugatti clean off the road and into a lake, which according to prosecutors was actually an act of insurance fraud. If it was, it has to go down as the crime of the century – how could he? I mean it's one thing to wreck a masterpiece by accident, but on purpose? Wow…unthinkable!

#11 1959 Ferrari 250 GT TDF – $3 Million+
Taking your classic car with a massive price tag to the racetrack to see what it can really do always seems like a good idea at the time. That is, until it spins out of control, ends up a total mess and suddenly reminds you how much it's worth. In the case of this $2 million+ 1959 Ferrari 250 GT, its driver decided that time had come to give it a new look…and not a good one!

#12 Pagani Zonda F Clubsport Roadster Special Mark 1 Overdrive Extra – $3 Million
You sort of get the feeling they were yanking our chains when they came up for the name for this one. In any case, all the names in the world couldn't stop the owner of one of just 25 units every produced from comprehensively destroying his. Still, he at least managed to walk away largely unscathed, but you can't help but think the sight of this alone would be haunting your dreams for the rest of your life. It certainly should, if you've a soul in there!

#13 Koenigsegg Argera R – $4 million
If nothing else, the driver of this Koenigsegg did at least walk away with a new record – the most expensive car crash in the history of China. That's right, with a price tag in the region of $4 million, no single car smash-up has ever hit such a hefty price tag. Not that you can imagine he was too proud of it, especially given the fact that he was summarily arrested for driving under the influence. Pretty bad, but brace yourself for what's next!
#14 Ferrari 250 GT Spyder – $10 Million +
On the plus side, nobody human had to bear the embarrassment and shame of destroying this piece of automotive history. Instead, it was Mother Nature who decided to wreak havoc with it. Having borne the brunt of a hurricane, this stunning Ferrari 250 GT Spyder with a value in excess of $10 million was left a twisted, useless wreck.

#15 1971 Lamborghini Miura SV – $1.7 Million
All mechanics mess up from time to time, but when you're working on the engine of a $1.7 million classic Lambo…well, you better not! But they did, which is why this gorgeous Miura burst into flames shortly after being 'repaired' a while back. Exactly who took the final blame we'll never know, but chances are the insurance company wasn't too happy with the bill.

#16 Sports Car Pileup – $4 Million+
Oh no. Oh dear Lord no. The humanity! The only thing worse than a supercar being written off is a supercar pileup. Which actually happened quite recently in Japan, when a Toyota Prius (ironically!) triggered the crash of all crashes, involving a Ferrari, a Modena, a Testarossa and a Lamborghini. Oh, and a Prius. The total bill was well over the $4 million mark, which would probably be about what the Prius driver is no doubt paying in annual insurance premiums, these days.

#17 Koenigsegg One:1 – $6 Million+
Ladies and gents, presenting the single most expensive accident to ever involve one single road car. It's also one of the most recent, with the One:1 Koenigsegg hypercar being smashed to bits during a test drive at the Nurburgring circuit in Germany. The 275mph beast was trying to shatter the all-time lap record, only to leave in pieces. Oh well, only $6 million or so to pick up another.

#18 Toyota 2000GT Versus Tree – $1.2 Million
Another shot that's painful to look at, the value of the 2000GT exploded over recent years to a point where a decent example could go for $1.2 million. Which is precisely why adding a tree into the equation is never a good idea. You can't help but feel for the owner of this one…not to mention the poor buggers who insured them!

#19 Ferrari 250 GTO – $30 Million+
Last but not least, the single most expensive car wreck in history remains and perhaps will always be that of a Ferrari 250 GTO biting the dust. Worse still, the owner took part in a classic car race and came out unscathed, only to then rear-end a driver out on public roads, after apparently driving too close. With a value of more than $30 million…well, what more needs to be said?